Children's Author
Wizzy and the Missing Shoelace.
This was my first children's book to be published.
"Once upon a time, in 2002 I teamed up with Sue Webber, an artist/illustrator to create a children's book with an environmental message. We had funding from a Millennium Grant and headed off to the Isles of Scilly to write the book".
Wizzy is a jolly character in dungarees, colourful hat and stripy shoes who finds himself on an adventure he never expected!. One sunny morning Wizzy realise he only has one shoelace, this leads to an adventure to find his missing shoelace but as the story unfolds the reader starts to learn about recycling and environmental issues.
Suitable for 3-6 year old's.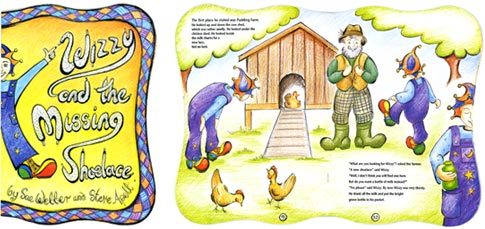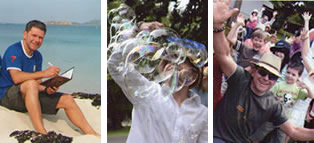 Lollipop goes to the Olympics
"A delightful story of Lollipop's adventure as she journeys to the Woodland Olympics, i wrote this book as my little part to the build up of the 2012 London games".
Lollipop a lovable rabbit sets of on an adventure in the woods, without releasing she starts to collecting a selection of colourful hoops.
Now will she be able to save the day?
What is happening at the Woodland Olympics?
Who will be the Hero?
A lovable story with beautiful illustrations by Katy Dynes, lovely characters and an interactive story.
Suitable for 3-7 year old's.
Both Books can be purchased for £5.99 plus Postage & Packaging – Please contact me for details.